eCommerce shipping encompasses all the services required to transport products purchased online directly to the customer in a manageable, affordable, and fast way. A seamless shipping process needs to be crafted by the storefront operators to lock-in sales and win customers for life by guaranteeing a delightful experience all the way through to delivery. With efficient eCommerce shipping procedures, you'll be offering your customers faster delivery at a lower price for you. Making sure that shipping costs are as low as possible is extremely important, the determinant factor in the credibility of the business sits upon the alignment of a consistent, timely, and safe package delivery system.
The eCommerce shipping process consists of a few key parts:
Shipping Address Validation: Once the order is received, your shipping software or WMS will verify the customer address on the order. This can be done within the eCommerce system, but it may also be performed before purchasing a label. This will also enable you to make edits to the order should there be errors

Package Sizing: Some eCommerce shipping software helps determine the right box size and weight. Having this automated saves a ton of time

Label Purchase: Consists of submitting verification, order data, package size and weight, and that the items are in the package (scanned). This process uses automation and technology help to make a selection from 100+ different carriers for the best price and time to delivery

Order Tracking and Customer Updates: Once the package has been sealed up with a label, a tracking number is made and updated to your eCommerce store, with a notification to your customers containing the tracking and insurance information. This may be found on an app, portal, or via email/text message with a good eCommerce shipping system like SKUSavvy

Returns Shipping: The final step of shipping takes place when a customer decides to return an order or item. Good shipping software will enable return labels or easier, a return portal they can log in and print out a return label for their package
When it comes to shipping, speed and cost are the most important elements to optimize in conjunction. With this balance, you can effectively get each order to the respective customer faster and cheaper. To handle a large eCommerce business, it is of essence to set up a multi-step and multi-vendor shipping arrangement to certify quick deliveries at a reasonable price. The right eCommerce shipping strategy will depend on the audience, budget, margins, product, among other components. This balance of shipping speed and cost can be balanced further when you enable multi-warehouse re-allocation otherwise known as cross-docking. Instead of relying on a shipping carrier to take 2-5 days from one location, you can cross-dock items between your own locations, then ship from the closest location in 1-2 days. While this is a step prior to the eCommerce shipping process, it's equally important to consider in the overall delivery of your products.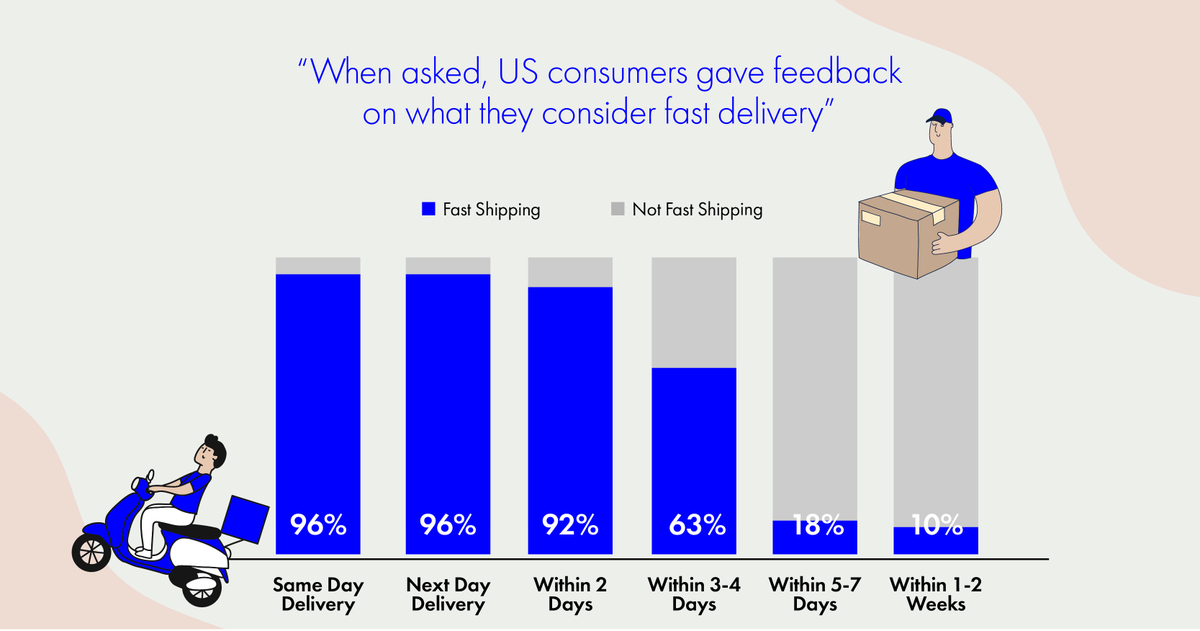 Beyond same-day or next-day delivery, you can certainly be sure your customer's expectations will want more from you. The costs and time associated with doing this can be attributed to:
Shipping costs: They vary according to the package dimensions, destination, service, and carrier used

Dimensional weight: Can be measured using either the package weight or the DIM weight

Shipping zones: Measures the difference between the origin of the package and its destination

Handling: Refers to the labor tasks associated with the fulfillment center operations such as moving inventory, packing shipments, among others
Different eCommerce shipping charges are used in various cases such as subscriptions vs. one-time purchases, or high-value items and cart values for free shipping. Use different rate structures to charge customers. Use experimentation and understand what best converts sales. It also helps to talk with your various carriers, they may have special rates or shipping services that work well for your top 20% of items. Here are some different shipping costing methods you can utilize:
Flat rate shipping: Refers to a fixed rate for orders that fall within a specific weight range and order value

Real-time carrier rates: Stores display real-time carrier rates at checkout

Offering free shipping: Can reduce shopping cart abandonment, increase conversions, and build customer loyalty

Incentive-based shipping rates: Here you might offer free shipping if the customer refers a friend or adds another item to their cart, or gets the cart over a certain value
Providing customers with an outstanding shipping experience is essential both during and after the journey, where sharing tracking numbers and ensuring an error-free return process are key. This process usually consists of:
Order management: Process of receiving, tracking, and fulfilling customer orders

Tracking eCommerce shipments: It is important to have a solid system in place with frequent customer touchpoints and automated updates

Managing eCommerce returns: Having a reliable return system is critical to customer retention
To run a dynamic eCommerce business operation successfully, owners need to keep an eye on the profit margins after calculating shipping and fulfillment, as shipping represents a significant expense for eCommerce merchants. A comprehensible pricing strategy should be presented using charts and graphs for direct comparison to accurately map out all the costs associated with getting your product into the customer's hands. Many businesses, except the ones focusing on commodities, are involved in fierce competition going above and beyond to impress customers by delivering not just a product, but an entire experience.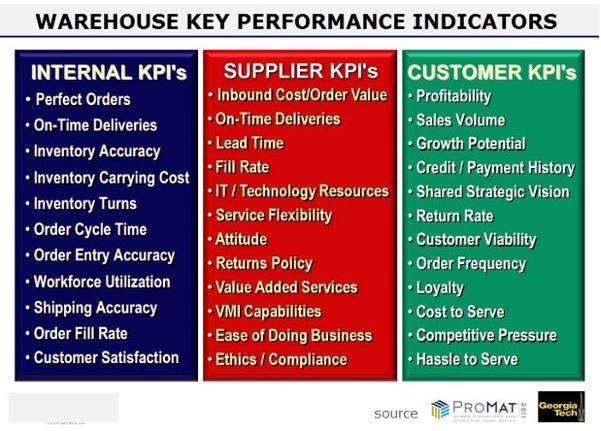 Some of the key eCommerce shipping strategy goals are:
Increase conversions: Offer different shipping options and rates that customers are expecting to improve conversation based on shipping options and timetables

Increase average order profitability: Simplify shipping processes and costs to drive profitability per item since last-mile shipping can be on average 50% of the entire cost

On-time accuracy: Get as close to 100% accurate shipments within the domain of time and items being shipped

Decrease costs: Make substantial changes to the fulfillment process and shipping services which will ultimately help cut down costs across your entire supply chain

Improve operational efficiency: Make sure to have the most amount of information to make informed decisions as part of your feedback loop
Getting shipping right is the holy grail of eCommerce, which means there are certain strategies based on well-known customer behaviors you can utilize to guide the direction of your goals. According to data trends:
About 93% of customers agree that shipping options are extremely important in their shopping experience

About 88% of customers agree that a 5-7 day no fee delivery is better than paying for a 1-2 day delivery

About 3 in every 5 customers have increased their total expenditure in order to qualify for free shipping

About 68% have used a free shipping coupon code
To sufficiently comply with these preferences, the following suggestions come in handy:
Indicate current shipping promotions above the fold of your homepage

A link detailing the shipping policy including pricing, time in transit, return policy, and carriers used

Careful thought about the shipping policy specifics, it is best to brainstorm and then work out the numbers
When shipping internationally, it is important to consider these matters:
Are your products suitable for international shipping?

Is there international demand?

Which shipping services will you use?

Do you know about harmonized tariff codes, duties, and taxes?

Are you aware of any restrictions?
Choosing the right shipping partner for your e-commerce business will entail considering the following factors:
Drop-shipping: Will you utilize a 3PL or drop shipping company for some orders that can help you boost shipping volume without having to increase storage space

Networking: Building smart, strategic relationships and using technology can help customers achieve a price-convenience balance

Packaging: For ground shipments, costs are determined by package weight and physical dimensions, but cutting down on box sizes you can eliminate extra costs

Technology and Analytics: Having a modern system in place like SKUSavvy can help the business prevent delays, errors or damage; it also helps customers monitor shipments to ensure timely updates and accurate receipt of packages

Cost: Make sure shipping schedules with your partners don't cause sales to be unprofitable, find a good balance to still satisfy customer needs while remaining profitable

Shipping schedule: Be consistent in offering quality and reliability for your products and services on the delivery time frame, this may involve having backups even for some of the largest carriers

Shipping volume: Consider the size of your product assortment and the number of products you receive when evaluating your inventory and availability of shipping services for these products

Guarantee: Aim at the receive-by label shown and confirm good service by reaching out to the customer directly and providing compensation if needed in the event a product does not make it by the time mentioned. A little can go a long way here

Support: Providing customers with answers and solutions will encourage customers to come back even if problems occur
There are several ways to reduce shipping expenses:
Use fewer boxes: Consolidate orders placed by the same customer in one package instead of multiple, if feasible, which is oftentimes not supported by shipping systems, so you may need something more advanced like SKSUavvy to adapt this

Reuse boxes and packing material: Try to reuse whenever possible between inbound shipments and outbound shipments

Be a savvy shopper: Search for discounts, sales, or bulk offers from shipping providers to packing materials providers, you can always negotiate with higher volume

Assess and track your packing inventory: If boxes are the same size then buy in bulk, if you know the lead times and usage of packing materials through the WMS, you can automatically re-order from vendors so you aren't left without materials

Negotiate prices: Do research to find out the discount rates in several companies, present the data to your potential vendor, and build relationships with the management team
Ecommerce shipping tips:
Clarity: Provide crystal clear information when it comes to your order fulfillment criteria and shipping policies for customers, so you can refer them to this before purchase or after a misunderstanding

Right team: Hire experts that can develop strategies necessary for excellent customer experience along the entire supply chain

Measuring weight: Efficiency is paramount when trying to get ahead of the competition, so with e-commerce, a continuous update of product weights and dimensional information should be set in order to run a smooth and accurate system

Same-day delivery: To be able to provide this service, the business needs to have a solid alliance with their courier carriers; the better the agents and more local their territory, the better the service

Overnight shipping: While expensive, many customers are willing to pay, especially for a high-value item, be sure to include this as an option at checkout

Transparent view at checkout: Shipping costs should be outlined in a transparent and easy to understand manner in order for customers to be aware of exactly how much they will have to pay early on in the checkout experience

Expected delivery date: The customer should be made aware of the date he/she will receive the package and tracking information as soon as the order is finalized, as well as any additional expedited order information (picked/packed/shipped) etc.

Updates: Customers need to be kept in the loop as soon as the product ships and provide updates for every step of the way.
Getting eCommerce shipping right is paramount to the success of your storefront. With everything, this can take time, and it requires constant attention. Part of your job here is to simply keep up on the quality of your overall shipping process. Do you have good shipping rates? Do you give customers options they will love? Does staff know or your software tell your staff the most efficient packaging and shipping service for any given order? These questions will take you a long way. Of course, everything along the supply chain is made easier with the right software system. Many of the questions and issues raised here are things we've had to think about in the development of SKUSavvy. If you are having a challenging time in managing your fulfillment services in-house and eCommerce shipping is just not working as you had hoped, let's talk. Either way, hopefully, this guide will at least provide the right guidance for things that you should be considering in the way you approach the final mile. And with that, let's get back to work and ship like a pro!