When it comes to fulfillment within Shopify there are a few routes you can take. Perhaps one of the best or most convenient to you will be Shopify custom fulfillment. It's a little-known option that enables you to connect with 3PLs, internal warehouses, or other sellers under your brand. With custom fulfillment options, you can utilize your own in-house fulfillment as well. In this overview, I'll share how to set up Shopify custom fulfillment, and introduce you to some new ways of utilizing your Shopify environment.
Want to Automate Custom Order Fulfillment Setup? Click Here
1. Enable Shopify Custom Fulfillment
Settings --> Shipping & Delivery
To get started go to the Shipping & Delivery settings, then scroll all the way down. You'll find the box titled "Custom Order Fulfillment" which will enable you to input the name and email of the fulfillment service. Most software such as SKUSavvy that handles fulfillment has a built-in Shopify integration to communicate orders and shipping. This method is a quick way though to send orders to any fulfillment service via email.

2. Select the Fulfillment Method on the Product
Products --> Select and Item
Now we're going to enable fulfillment from the new service on a product. In Shopify, all your products, and their variants are treated separately, so the fulfillment and shipping options are on an individual product/variation level. Once you've navigated to the item you want to change the fulfillment method on, you'll scroll down to the 'Inventory' section. Here, if you have variants, the steps vary slightly. For a simple product (no variants), you can select the fulfillment service from the dropdown below 'Inventory Managed by' For variants, you'll click on the variant itself. On the following page, you'll find the option to select a custom fulfillment partner under 'Inventory --> Inventory Managed By' as you can see below in the screenshots. Using either of those methods, once you've made your selection, press save, and now Shopify will send an order summary to that fulfillment service or in-house option.

3. Request Fulfillment of Orders
Ok, so you've got the new fulfillment service updated in your settings and on the products, now it's time to use it. When new orders come in, they will queue up in the 'Orders' tab on Shopify. To get the new fulfillment service to fulfill your new order, click into the order and hit 'Request Fulfillment' which will let you create an alert that gets sent to the fulfillment choice selected on the product. When orders are requested to be fulfilled, you can manually add a tracking number to the order, or you can have the custom order fulfillment option send back the tracking number.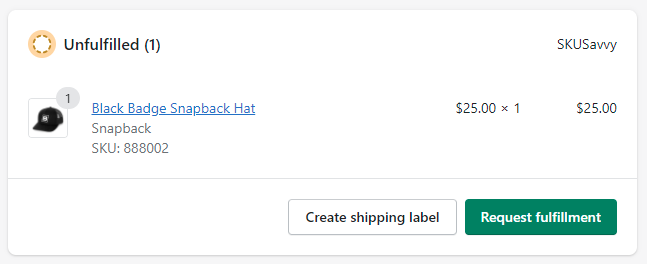 4. Enter Tracking Information
The tracking information is by default not entered. With most systems, like SKUSavvy this step is automated when the shipping label is created, then updated back to Shopify which notifies your customer of the shipment. Doing this manually with the alternative fulfillment method on Shopify means you or your partner need to enter the information directly. This step is important as it gives your customers accurate information on the status of their order.

5. On the Fulfillment Side
What happens when you've added a new custom fulfillment option and requested fulfillment? The first thing that happens when you press 'request fulfillment' is your fulfillment channel (or in-house) will get an email with all the order details: customer info, shipping address, items, and tracking if added. From here your fulfillment partner has all the necessary information to properly get your package sent out. You may opt to have your fulfillment channel send back tracking information if they will be generating the shipment information separately.
There you have it, just like that you have a new Shopify custom fulfillment channel up and running. Remember to set the new fulfillment option on the products and variants themselves, otherwise, it will just go through as a normal order. This is also the same method you would use if someone is selling items on your storefront, but they will be responsible for fulfilling the product themselves. You can use this method to add the item and send off the shipment details to the person who will be sending off the product. This oftentimes happens when you are working with third-party logistics. Good luck with your new fulfillment channel. If you are fulfilling in-house but have yet to decide on a system to use, check out SKUSavvy.com which will help organize the warehouse, create purchase orders, pick items, package, and ship orders through any mobile device. SKUSavvy is connected with Shopify, so you wouldn't have to do this manual work of updating the fulfillment status, and it's free for one user!